This Season's Menu: The Promenade launches daily set menu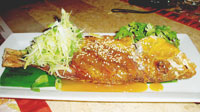 Crispy Fried Red Snapper with Ginger
and Leeks, Hot Orange and
Sesame Glaze.
This Season's Menu. This is the newest addition to the amazing parade of gourmet flavors brought to you by The Promenade. This is offered daily, at any time of the day.
Every fifteenth of the month, The Promenade will be changing this special set menu. This special set menu will showcase new and exciting flavors courtesy of the newest member of the Days Hotel Iloilo and The Promenade family, chef Tim Freeman.
Freeman, with his repertoire of international cuisine and his vast culinary experience, is sure to deliver innovative and thrilling dishes that are guaranteed to tickle every good lover's taste buds.
Here is a list of The Promenade's set menu starting today until April 30. For your set menu, choose one from the list of appetizer, then another from the entrée and one from the desserts. The price of the set menu would depend on the entrée that you have chosen.
Appetizer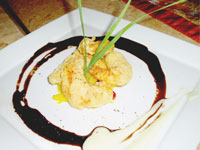 Tempura Prawns with Green Mango
Relish and Sweet Wasabi Sauce.
Tempura prawns with green mango relish and sweet wasabi sauce.
Three shrimps coated in Japanese tempura batter and fried quickly. It is served with green mango relish (achara), rice wine vinegar, sugar and red pepper. To enjoy the fullness of this dish's taste, you have to eat the items altogether.
Asian cured duck breast, green apple and jicama, cardamon dipping sauce.
Chinese duck breast cured with sugar, salt, star anise, cinnamon and cumin for four days and served with a small salad of thinly sliced green apple, rice wine vinegar, sesame seeds and sliced jicama. The sauce is made of cardamon, sugar, white wine and herbs. Cardamom takes the form of a small seedpod, triangular in cross-section and spindle-shaped, with a thin papery outer shell and small black seeds. Jicama is a crispy, sweet, edible root that resembles a turnip in physical appearance, although the plants are not related. In addition to having a unique flavor and texture, jicama takes flavor well, making it well suited to culinary experimentation. Jicama is a great source of vitamin c and is fat free—making it a superb on-the-go snack.
Tuna sashimi with frozen melon, kaffir lime syrup, avocado and chile.
Fresh sashimi of grade red tuna, sliced thinly and paired with chilled melon. Served with a sweet Thai Kafir lime syrup, hot chili and an avocado puree to cool everything down. Eating this appetizer is like playing a game of hot-cold-hot-cold. Chef Freeman suggested that this be eaten in such order: tuna, melon, ginger, chili, pineapple and avocado.
Entree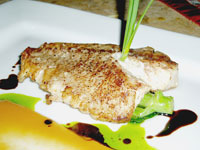 Pan Roasted Togarishu Spiced Lapu
Lapu, Mitsukan Miso Sauce and
Grilled Bok Choy.
Pan roasted togarishu spiced lapu-lapu, mitsukan miso sauce and grilled bok choy Php550.

Japanese spiced Lapu-lapu roasted in a hot oven with white miso sauce of Japanese rice wine, miso paste and sugar. It is served with bokchoy.
Crispy fried snapper with ginger and leeks, hot orange and sesame glaze Php500.
Whole red snapper fried in hot oil until crispy and served with thinly sliced ginger and leeks. Topped with a hot orange and sesame glaze.
Cappelini pomodoro with grilled shrimp and spicy tomato sauce Php450.
Angel hair pasta with diced sundried tomatoes, garlic, shallots, white wine, fresh herbs tossed in a fresh tomato sauce with chilis.
Fresh crab pasta, roasted tomatoes, spinach herbs, and wine butter sauce Php425.
Fettucine pasta with oven roasted tomatoes, fresh greens, garlic, shallots, fresh herbs and cracked fresh pepper tossed in a sauce of white wine and butter.
Dessert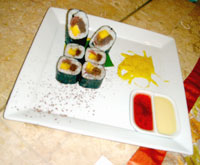 Dark Chocolate Mokimono, Fresh
Mango and Mint, Raspberry and Chile
Dipping Sauce.
Dark chocolate mokimono, fresh mango and mint, raspberry and chile dipping sauce.
Mokimono style sushi with dark chocolate inside, fresh mango, grapes, fresh mint served with a sauce of pureed berries and fresh chilies. Dip the sushi into the choice of sauces. The mint kicks in at the end of all the mixed flavors. This is what you call time delay.
Cardamon creme brulee with crispy sesame cookie.
Traditional Crème Brulee infused with Indian cardamon and served with crispy cookie. Cardamon changes the flavor of a regular tasting crème brulee.
Tempura Bread Pudding With Hot Chocolate Centers, Vanilla Creme Anglaise.
Classic bread pudding fried tempura style with a hot chocolate center and vanilla sauce.