Passad furniture wins Likhang Pilipino Award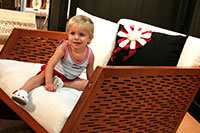 Comfort and style.
Passad has brought pride to the Ilonggos again when it bagged the Likhang Pilipino Award for Best Furniture Design for the second year. This award was given during the Manila Now 2009 show last March 5 to 8, 2009 at the SMX Convention Center.
The winning piece is a rocking chair designed by Passad's in-house designer, Anto.
Passad's furnitures will also be on exhibit at the Manila FAME International Show on April 15 to 18, 2009 at the SMX Convention Center.
According to Gemma Lee, owner of Passad, they will showcase pieces and a special setting designed by Eric Paras, a world-class Filipino designer.
She added that Passad works with several designers in order to produce works that can compete in a "very design driven and fast paced market."
"Passad" is a hiligaynon word that means "to create." At Passad, tiny chips of wood are painstakingly handcrafted to create sculptural works of art, each one so unique, you will be proud to call a Passad piece your own.
Passad website: http://www.passadexports.com