PURR
The seniors and Mar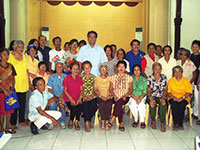 A pose with our senator.
Senator Mar Roxas turned some senior citizens into giggling individuals when he graced them with his presence. This took place during a fellowship of some senior citizens at the Iloilo City Social Hall recently.
Pior to the senator's arrival, there was a program of dances, songs and speeches. Then, when they were informed that Mar's vehicle has arrived, everybody was ecstatic. It took some time before the senator could reach his designated area because he had to kiss and shake hands. From that incident, it showed that the senator is well-loved by the senior citizen faction. Apart from his charisma and good deeds, it was learned that the senator authored RA 4502, a bill that promotes cheaper medicines. He promised our lolos and lolas that he and the Provincial Government of Iloilo, will source medicines (original ones and branded) from outside and sell it to the seniors. He promised that drugs for high blood, diabetes, and others that senior citizens use will be lowered three or four-folds. He said these medicines will be made available after the Holy Week. So, I guess that would mean, soon?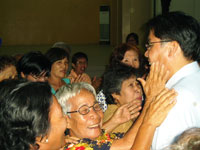 'We love you Senator'.
Anyway, the senator revealed that his grandmother Ester was the one who raised him while he was in the United States. It was Martial Law that time. "Because of her, I tasted the best adobo and batchoy when I got tired of eating too many hamburgers. She also insisted that she wash my laundry. I love senior citizens because you remind me of my lola," he said.
Indeed, from that event, one could see that Senator Mar Roxas has a heart for our lolos and lolas.