NEGRENSE WAY
Mark Maquimay's pencil strokes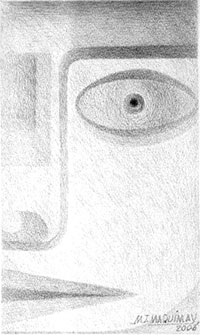 By Mark Maquimay..
Mark Maquimay a young Bacolod-based visual artist and a member of the Art Association of Bacolod-Negros is having his third solo exhibit entitled "Lapis".
He uses pencil as his medium in its modern stylized social realism. He gives focus on the different aspects of life and how he see himself as an artist.
"Everything for me is just a beginning for I want to create more. It is my contribution to our society especially in the field of visual arts," he said.
The exhibit opened last March 16, 2009 at the Moravia Gallery Bar, Upper Floor of Atop Italia Artekalye St., beside Riverside Hospital- Bacolod. The proceeds of each of his artwork will go to the health fund of Exodu Aquillus, cancer patient. The exhibit will end today.
For interested parties, you may call or text 09204738057 and look for Mark M. or e_mail at nexxuss_24@yahoo.com.