A Lake With a View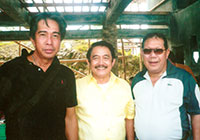 BIG THREE. Roberto Nonong Palomar,
Capiz's Governor Victor Tanco and Gen.
Roberto Lastimoso.
Located some three kilometers away from the town of Tapaz is a majestic sight to behold. It is where one can see the lush mountains of the Provine of Capiz, with the most spectacular lake the province can boast of. I am refering to the enchaning Lake Marugo, a lake with a view.
Speaking of Tapaz, one can't help but to mention one of the town's most respected names, the Palomar famil,y which happens to own a vast track of land right in front of lake Marugo.
A few weeks ago, the ever charming Au Palomar, together with her favorite nephew, Robert "Nonong" Palomar, sponsored the first ever Lake Marugo Boat Race, which caught much attention and admiration to the town folks and visiting guests from nearby provinces.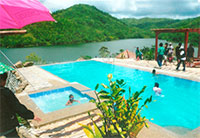 Infinity pool over looking the
breathtaking scenery of Marugo Resort.
Seen on the amazing race were power couple Judgee and Sarah Pena, top hostesses and businesswomen Norma and Pangging Rosles with her equally lovely sister Pane. Also enjoying the spectacle were Capiz's Governor Vic Tanco with his amiable wife Fatima, the popular Gen. Roberto Lastimoso, who donated a large sum for one of the major cash prizes.
A sumptous lunch followed after the competition. The petite charmer Nelly Paloma -Weiss helped in entertaining the guests at their family's near done mansion overlooking the beautiful lake.
Like the winners of the boat race, all the guests left the place with a big smile and a new sense of experience with the facinating wonders of Lake Marugo.
Hope to come and visit it someday. Cheers!