Dr. Ramulfo Zapanta: Putting IDC's School of Dentistry to greater heights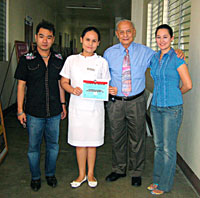 Dr Zapanta (3rd from left) with staff and
an academic scholar.
He is one of the founders of the region's only dentistry college, the School of Dentistry of Iloilo Doctor's College. To add to his numerous awards, he was recently awarded the Gawad Parangal for being an outstanding dentist in dental education given by the Philippine Dental Association.
He is Dr. Ramulfo Zapanta, presently the dean of the IDC's School of Dentistry.
As a dentist, Zapanta played his game fair and square. He edged his way to success while trying not to step on anybody's toes. He believes that in being a dentist, he could be a channel to cultivate good to the community.
Although he does not consider himself as a full-bloodied educator, his influence has made the school a good training ground for future dentists. He meets with the students through a clinical conference. This way, he is updated on how the students are faring. The students are also welcome in his office for whatever concerns they have.
The School of Dentistry faculty.
He wants to leave a legacy of nurturing young dental practitioners. He also wishes that the students work harder even after they graduate, with dentists being self-employed. He also advises them to establish connections in society in order for their services to be known.
Zapanta is married to Eleuteria Fernandez and they were blessed with two girls and two boys. Three of his children became dentists, two are physicians and one is an engineer.
Meanwhile, the School of Dentistry was established in 1982 by the Integrated Education Corporation of Iloilo (EICI) in answer to the need of a dental school that can accommodate and train students from Western Visayas intending to pursue the Dentistry course.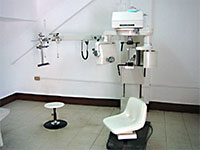 Laboratory facilities.
It has 70 dental chairs and units, suction machines and autoclave sterilizers as well as air conditioned restorative and oral surgery clinics. It has modern radiographic equipment which includes two dental periapical X-ray machines and a panoramic and celphalometric X-ray facility which meets the needs of the students, faculty and private practitioners. It also has a sufficient number of microscopes and slides for microbiology, histology and pathology subjects, and cadavers. There are 54 phatom heads, lathes, trimmers, hydraulic pressors and manual pressors.
Lectures are done in fully air conditioned classrooms with multi-media facilities.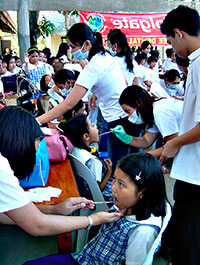 Community outreach.
A dental library is available to students and faculty. It has hundreds of textbooks, reference materials and journals with the latest studies and researches on dental technology and materials.
It also offers an academic scholarship out of its desire to help bright or talented students obtain a dental education.
The school subscribes to the same philosophy of the IDC wherein the highest ideals in all aspects of its educational endeavor shall be pursued through a balanced development of the student who is fully prepared and equipped with proper attitudes, moral values and adequate knowledge and skills in the medical and dental sciences and arts in the delivery of oral health care to one's patient and to the community.
Zapanta sets his sights on the possibility of IDC putting up a post graduate school on orthodentia, one that specializes in braces.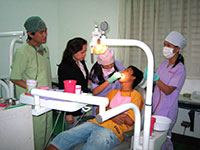 Up-to-date clinical facilities.
With an outstanding dean at the helm and the unwavering support of the IDC management, this vision is not far from reality.