Ateneo de Iloilo inducts new alumni officers at new site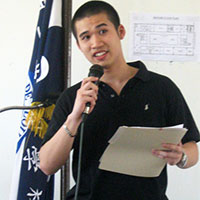 Pierre Jefersson Go, president of AAA.
A NEW set of officers of Ateneo de Iloilo Alumni Association (AAA) led by young businessman Pierre Jefersson Go, were inducted Saturday morning, March 28, at the Jesuit school's new site in Brgy San Rafael, Mandurriao, Iloilo City.
In one of the 72-meter-square rooms of the P200-million worth Ateneo basic education complex, the new 15 executives of the AAA were sworn by no less than Ateneo Project Manager Fr. Manuel A. Uy, Jr, SJ before the other stakeholders of the school: representatives from the Jesuit community, benefactors, parents-teachers association, administration, faculty and staff, student council, school paper, and the Santa Maria Parish.
New AAA president Pierre Jefferson Go, a member of Batch 2002, said in his acceptance speech that the new set of officers are facing a tough challenge ahead of them as they are "tasked to continue the legacy of service and excellence set forth by our predecessors."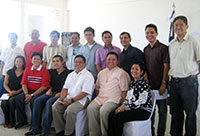 The new set of officers of Ateneo de
Iloilo Alumni Association (AAA).
"We take this challenge heads up as we are trained to be more, and do more, the Atenean way," Jollibee branch owner-manager Go, adding, "for I say to everyone 'yes, we can.'"
Go, to note, is the youngest every AAA president. Former AAA presidents include ABS-CBN anchorman Penaflorida (Batch 1982), who is also the incoming AAA Chairman of the Board, Bombo Radyo executive Rogelio Florete Jr. (Batch 1985), rural bank owner-manager Franklin Rubin (Batch 1974), and businessman Edward Yee (Batch 1974).
Go is a graduate of Industrial Economics in the University of Asia and the Pacific (UA&P).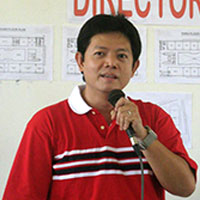 Atty. Jobert Penaflorida.
This early, Go has already laid out some of his plans for the association. Included here is the Big Blue Night, a yearly event of revelry and homecoming, the regular Alumni Sportsfest not just in basketball, but also in badminton, volleyball, table tennis, and other sports, formal launching of the sought-after Alumni Newsletter "Waves" and the formalization of the Alumni Card system, among others.
Go further said, "one of our main thrusts would be the launching of special events that support the new Ateneo project; this, for us, is our way of showing our gratitude and love to the school who excellently nurtured us during our delicate young years in grade school and in high school."
Other new AAA officers are: Iloilo Grand Hotel manager Robert Alor (vice president, Batch 1983), businessman-philanthropist Juan Miguel Flores (secretary, Batch 2003), Pavia's No. 1 Sangguniang Bayan member Michael Gorriceta (treasurer, Batch 1993), AdI-SMCS accountant Mark Anthony Yap (auditor, Batch 1996), and SS Gorriceta owner-manager Felix Trix Gorriceta III (PRO, Batch 1989). Incoming Board Members are MIWD executive Francis Gerard Habana (Batch 1979), Negros Navigation supervisor Dennis Raymund Garganera (Batch 1980), medical doctor Joselito Villa (Batch 1984), businessmen Rommel Protasio (Batch 1986), Peter Trompeta (Batch 1985), and May Ann Menchavez (Batch 1992), banker Hal Aurelio (Batch 1996), and college students Paul Denee Monicimpo (Batch 2007) and Bibiano John Aranda (Batch 2008). Sportsman John Trompeta (Batch 1987) is the Alumni Relations Officer while AAA Fr. Emerito Salustiano de la Rama, SJ, and Fr. Manuel Uy, Jr., SJ, are adviser and honorary adviser, resepctively. (Photos by Krezyl Joyce Pugna.