Blossoms from Eternal Springs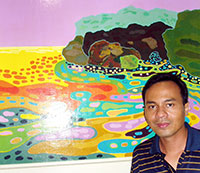 Lucell Larawan and his streams.
God is the creator of all things.
This is what Lucell Larawan had to say through his first solo exhibit entitled "Blossoms from Eternal Streams" held at the UPV Art Gallery last month.
Larawan is a self-taught painter and sculptor who hails from Tagbilaran City, Bohol.
His oeuvres speak of his love of nature as creation of God and express his faith.
Larawan's "blossoms" show that the blossoming of things simply point to the source of nourishment, either from the streams where the tree of life was located or from the cisterns of one's self-reliance. The first promises a truly lasting garden of blissful joy, peace and delight – a life that was originally meant for us. The second referring to the cisterns might bring traces of some splendor but once the sprouts wither in a little while, the law of decay is eminent.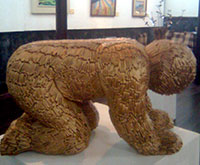 Prostrate I Fall, nails and wood.
Larawan graduated from UP in the Visayas with the degrees of Bachelor of Science Management and Master of Public Management. He is presently teaching at the Central Philippine University College of Business and Accountancy with the rank of Senior Assistant Professor. He was a semi-finalist in the 2006 and 2008 Metrobank Art and Design Excellence (MADE) competition in the sculpture category. He has done research on Ilonggo artists and artistic traditions which was funded by a grant from CPU. He has been a resource person in several art forums in the Visayas. A budding poet, Larawan has published a compilation of his poems titled "Peering through Gem-studded Streets."
Blossoms from Eternal Streams is made possible by a grant from CPU.