Dungog Capiznon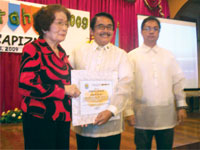 Annie Fagutao, sister of Dr Adolfo
Bellosillo, receives the award in
his behalf.
ROXAS CITY--- The first day of the Capiztahan 2009 commemorative activities of the 108th Foundation Day Commemoration of the Civil Government of Capiz was capped with the awarding of Outstanding Capiznons in the program, "Dungog Capiznon."
There were 10 awardees, two of which are institutions, given due honor for continually propagating the legacy of Capiznon spirit and values of excellence, industriousness, integrity and courageous service to fellow Capiznons. The awarding was held at the Provincial Capitol with the awards given by Governor Victor Tanco, Sr. and Provincial Administrator Zoe Herrera.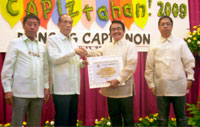 Pido Yap receives the award of CACAG.
The Outstanding Capiznons were: (1) Capt. Randy G. Bance of the Phil. Air Force and a resident of Casanayan, Pilar, Capiz. He was also one of ten outstanding soldiers in 2008 awarded by Metrobank Foundation; (2) Dr. Adolfo Bellosillo, founding officer of the Foundation for Lay Education on Heart Diseases Inc; (3) Federico Gilbance Caballero, a known figure and propagator of Indigenous People History and Culture, and resident of Wright, Tapaz, Capiz; (4) Capiz Citizens Action Group or CACAG, for voluntary fire fighting services in Roxas City and entire province of Capiz for 24 years; (5) Dr. Victor Bermejo Endriga, a native of Panay, Capiz and Quezon City treasurer for being a champion in tax collection in the country and for promoting tourism in Capiz.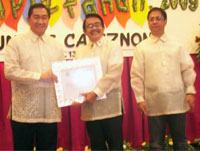 Quezon City Treasurer Victor B Endriga.
For Special Citation awards: (6) Angeli Joyce Yap Dy, student of Capiz National High School who represented Capiz and the Philippines to the Intel Science and Engineering Fair in Reno, Nevada last May 10-15, 2009; (7) Gideon Ike Patricio, former mayor of Pilar, Capiz, for pioneering the organization of the first National Federation of Volunteer Probation Aids in the Philippines and extending his relentless voluntary services as its first national president; (8) Gen. Orlando Pestaño, for his continuous support to help ensure peace and order and alleviate the lives of Capiznons especially during disasters; (9) Chief Petty Officer Edwin G. Palacious, PN, for demonstrating gallantry, competence, professionalism and integrity as member of the AFP and for being one of the ten outstanding soldiers of the Phil. 2008 and (10) College of Nursing-Filamer Christian College for outstanding and meritorious performance in its continuing commitment to quality education in nursing and producing topnotchers in the nursing licensure exam.
To all the awardees, congratulations!!! You inspire our fellow Capiznons to strive and achieve the same for the pride of our Capiz province.