PURR
The 1st Scholastic Art Awards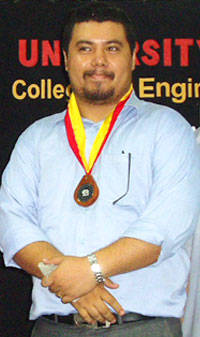 Digital art 2nd and 1st place winner
Babak Niaraki.
First of two parts
The University of San Agustin Bachelor of Fine Arts held the First Scholastic Art Awards recently at the Robinsons Place Iloilo. At the event, winners in different art categories were recognized. The categories were painting, drawing, mixed media, sculpture and digital fine arts.
It's good that the school initiated such competition. Through this, students will be able to enhance their artistic juices and heighten their standards on art.
After the awarding, the artworks were unveiled after a ribbon cutting led by Rep. Raul Gonzalez Jr.
The artworks will be published on the second installment of this article.