Government's anti-graft body ruled anew to get rid of yet another top government official this time coming from the Land Transportation Office (LTO).
Over the years, the rows of chairs have significantly dwindled and many faces were noticeably absent. Most of those who came were widows and orphans.
But yesterday's commemoration of the 64th anniversary of the liberation of Panay, Guimaras and Romblon islands from Japanese occupation carried a jubilant note.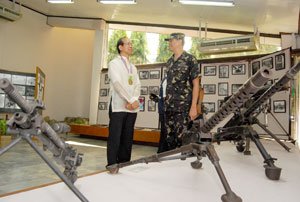 A.CHRIS FERNANDEZ
The government will be giving out cash gifts to Panay-based members of the rebel group, New People's Army who will be formally surrendering today before Malacañang's peace adviser.