Paint and Ink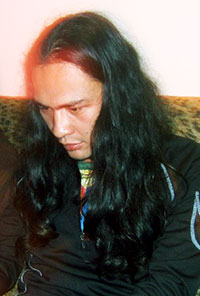 Nuklar Alvarado.
Nuklar Alvarado and Otay Hiceta. They are two gentlemen who are very passionate with their art. Their sensitive senses and playful imagination make magic on the canvas. They paint or draw not just to please the viewers but to show reality.
Nuklar is the son of one of the famous artists here in Negros (Nunelucio Alvarado) but he never takes advantage of his father's name. He is a proud son and so thankful that their father introduced them to art. But, he said, he has his own identity and style.
Otay Hiceta is a simple man with a wonderful talent in drawing. When he was a kid, he loved to watch the TV programs Voltes 5 and Starangers. These inspired him to draw. He later on developed his skill. In 1999, he joined the Philip Morris Painting Competition and was one of the 50 finalists.
Last March 15, 2009 their exhibit opened at Namit Namit, San Agustin Road Extension. Entitled "The Two Man Show, Paint and Ink—Paintings of Nuklar and Ink works of Otay", this will run until March 31.