PINK PEPPER
Guisi-Sibiran Festival of Guimaras: Reviving the traditional way of fishing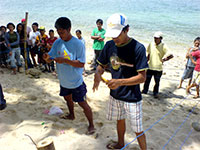 Time to make a fishnet.
Nueva Valencia, Guimaras is known not only for its beautiful beaches but its Guisi-Sibiran Festival held every February, which I was lucky to witness this year.
Sibiran was derived from the word "sibid-sibiran" a sail-powered wooden dugged-out banca used to drag or pull the sibid-sibid at sea. The latter is an artificial fish bait made of selected fowl feathers or a special threads of creefone cloth delicately bound together and is attached to a hook and line being use to catch fish.
I learned that during the 19th century, fisherman from Guisi went to the sea every morning with their sibid-sibid. After having their catch, they go back to shore and sell the fish. In the evening, they gather amid a bonfire. They roast fish and drink tuba until they are in a festive mood, with the residents singing and dancing.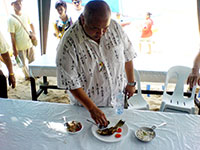 Governor Nava tastes one of entries in
the seafood cooking contest.
This went on until the late 70's, before modern fishing technology set in and invaded the rich fishing ground of Guisi. With such "invasion", commercial fishing vessels deprived some fishermen their precious catch. This was aggravated by illegal and destructive means of catching fish and other marine products in the area.
But, the traditional way of fishing is being revived by the Katilingban sang Magagmay nga Mangingisda sa Dolores (Kamamado). The group believes that fish-friendly fishing gears and methods are the best way to do it.
The Sibiran Festival is a vehicle for such endeavor. This will revive the fishermen's skills in handling wind-powered Sibirans; promote awareness for the protection, conservation and rehabilitation of coastal resources; maintain ecological balance to achieve sustainable food security and enhance the promotion of Eco-Tourism to complement the Guisi Community Based Tourism Program of the Baranagay Dolores Tourism Council Inc.; and to generate business and job opportunities.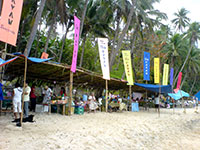 A line of food stalls.
This year theme was "Coastal Resources Protection, Conservation and Rehabilitation for Eco-Tourism". The activities were the Fish Net Making Contest, SIKISI (Seafood cooking) contest where the energetic Governor Felipe Hilan Nava was one of the judges; Sibid-sibid making contest, Porma Parola sa Balas, Sugay Kalat and Kapkapanay Mangay Contest.
Also held were the sibiran regatta, baroto race and composo/binalaybay contest in the afternoon and the search for Perlas sang Sibiran.