Santa Clarita Int'l School celebrates family day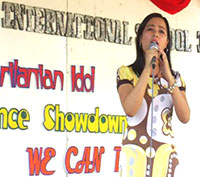 Special Number by Jed Madela's sister
Christine Tajanlangit.
"Family: The basic foundation of a child's education" is this year's theme for the 14th Family Day of Santa Clarita International School, Inc. which was celebrated last February 20-21, 2009. A thanksgiving mass started the activity. The first day was celebrated as Students' Day and it was facilitated by the Student's Council. They enjoyed the games like longest line, tug-of-war and treasure hunt; and sports like volleyball, basketball, pingpong, chess and scrabble.
A magic and acrobatic shows added to their fun. Youngsters spent most of their time playing in the inflatable slide. The Search for Mr. and Ms. Claritanian is the highlight of the activity. This was participated by the primary levels and the winners are: Rafael Allen Castro Enano & Theresa Grace Altas crowned as Mr. & Ms. Claritanian 2009; Jamaica Denisse Ilastron & Brian Nico Diancin garnered the 2nd Runner Up; & Bea Marie Peñaflorida & John Lloyd Marquez as the 1st Runner Up.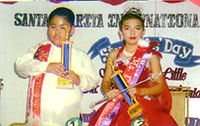 Mr. & Ms. Claritanian 2009 Rafael Allen
Castro Enano & Theresa Grace Altas.
The second day was noted as the Parents' Day. The family enjoyed playing Bingo in the morning. The awaited part was the contests for Search for Claritanian Idol (A Vocal Solo Contest), Dance Showdown (Modern Group Dance Competition) and We Can Dance (A Ballroom Dancing Contest) which were all participated by parents or any intermediate relatives of the Claritanian family. The celebration ended with a DJ Mix live where students and parents laugh aloud as they dance through the music till midnight.