TWILIGHT
Silay City welcomes the biggest pizza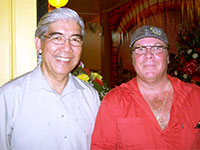 Silay City Mayor Oti Montelibano with
Mamma Maria's Pizza Creator Tommy
Brage.
Your Twilighter drove north of Bacolod to Silay City where the new national airport is now located. Right there we saw Mayor Jose "Oti" Montelibano and First Lady Marissa joining the new business investors in their city.
It was the opening of the first Mamma Maria's Pizza store in Silay City selling the biggest pizza in the country. Vice-Mayor Mark Golez was all smiles to give him an easy reach of the crispy tasty pizza which he could now buy anytime.
Found in the crowd was Silay City First Lady with her family and friends having a crispy bite of the pizza. Also there was MGE Cornerstone Security Agency owner Melinda G. Ebato and her staff and friends. Pizza lovers from Sweden, Australia, Japan, and other Europeans and Pinoys were there to enjoy the pizza matched with chilled San Mig Light Beer and their favorite Pepsi Cola.