PURR
A photographic experience with autistic children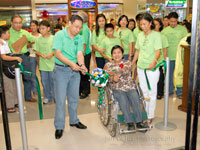 PSI President Carlos Garcia, Dolly
Laudenorio, Office of Persons with
Disability Affairs and ASP-Iloilo President
Edith Jardeleza
The Autism Society of the Philippines-Iloilo Chapter (ASP-Iloilo) and the Photographic Society of Iloilo (PSI) collaborated to come up with a successful photographic workshop and exhibit entitled "ASP at 20: Sharing Hopes, Building Dreams" recently.
The pictures on exhibit were taken during the photo workshop given to autistic children in Racso's, Guimbal. The PSI members, who are adept in photography, volunteered to teach the kids, numbering to 10, the basics in the said craft.
PSI's president is Carlos Garcia. He, along with PSI members Jun Rojas, Paul Go, Erwin Young, Romy Reyes, Israel Gonzalez, and Drs. Cora Martinez and Malbar Ferrer, received special awards from ASP-Iloilo.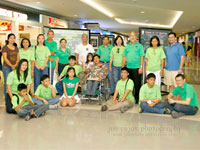 (Standing from left) Gina Lubas, Neva
Gregorios, Agnes Villanueva, Paul Go,
Cora Martinez, Israel Gonzalez, Carlos
Garcia, Cecile Pestano, Romy Reyes,
Edith Jardeleza and Francis Dela Cruz.
(Sitting from left) Liliane Balonzo,
Jonathan Balonzo, Jason Villanueva,
Bianca Lubas, Marky Pampolina, Bea
Gonzalez, Dolly Laudenorio, Romil
Pestano, Angelo Jardeleza and
Jun Rojas.
Edith Jardeleza, president of ASP-Iloilo encouraged her members to be active. She revealed that this summer, some projects for the kids are in the offing. She also advised parents who have children with symptoms relating to autism to have them diagnosed for early intervention.
Normally, children develop social, language and motor skills at age 2 to 5. Such skills are delayed in an autistic child. For example, if a child talks late, would rather play alone or makes repetitions in his or her play. Your pediatrician can be a good person to ask as regards this. Or you can get in touch with the ASP at 320-6317 or 0905-2904-672.