PURR
Dancing with Fire: Jay, Alfredo and Keith light up your party with fire
The fire poi is a round kevlar wick attached to a chain and this is being swung on different directions, creating a great circular or any other movement that is attractive to the audience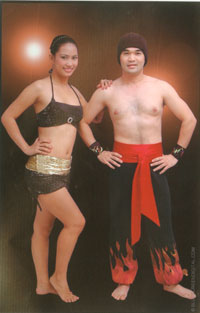 Keith and Jay.
It's summer time, the perfect time for beach parties. A great way to light up any nighttime beach party (or any other gathering) is a fire poi performance.
"Poi" is a Maori (indigenous people of New Zealand) word and it connotes an art of spinning that also originated from the said tribe. The fire poi is a round kevlar wick attached to a chain and this is being swung on different directions, creating a great circular or any other movement that is attractive to the audience.
In Iloilo City, we have fire poi dancers who can enliven every gathering with their prowess. During the day, they can also enthrall you with other kinds of poi that do not involve fire.
In the First Dinagyang Firedancing Competition, three people made it to the top three. They are Jay Garrovillo, first placer; Alfredo Bustamante, second placer; and Keith Espia Lorde, third placer.
Jay is considered Iloilo's top fire poi dancer and he has proven it again in the said competition.
Jay first learned how to play poi in January 2007. Jay goes to Boracay every Holy Week or every summer and he found this art very entertaining. So, he decided to hone this skill. "I was hoping to bring the fun of fire dancing in Iloilo. Which I did."
Jay has joined the Boracay International Firedancing Competition last April 22, 2008 and won third runner-up and the All-Filipino Firedancing Competition in Boracay in May 2008 and won third place.
Jay plans to put up his own poi training school. At present, he holds classes every Monday, Tuesday and Wednesday, 5 pm at the Iloilo Sports Complex. He started doing one-on-one tutorial and through referrals, was able to train many students. He also sells made-to-order ribbon poi and fire poi.
Meanwhile, Alfredo started practicing poi in 2006. A week later, he learned fire poi after witnessing the dancers in Boracay do it with perfection. "I followed what they did. Nobody taught me. I discovered the steps myself and there I realized that I have a skill in fire poi dancing," he said.
Keith, on the other hand, performs fire poi when he's not modeling and while she's waiting for her schedule to work for a cruise ship. She is a graduate of BS Cruise Ship Management from John B. Lacson University.
It was her first time to join the First Dinagyang Firedancing Competition and she won third place already. She's thankful for Jay's prodding and encouragement for her to join the competition. Despite being tired from a firedancing event in Panglao previously, she made it.
She's been practicing poi for more than a year. "When I saw my co-model, Kate Gaylo doing the ribbon poi, I got interested. Then, Jay taught me after that," she said.
So, there you are –-- let Jay, Alfredo and Keith be your fire poi dancers.