Like the complete attention he usually gets when he delivers his homily in the pulpit, it was 100% silence with the audience – region's graftbusters – seriously listening to what Monsignor Meliton Oso had to say.
The Police Regional Office 6 has ordered the investigation of six police officers caught drinking inside a police station in Negros Occidental recently.
Police regional director, Chief Supt. Isagani Cuevas told The News Today yesterday that he has directed Negros Occidental provincial police director, Sr. Supt. Manuel Felix.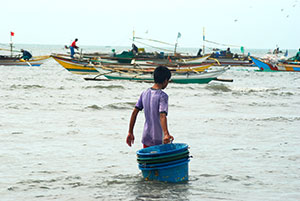 A. Chris Fernandez
This is to apologize to the family of World War II veteran Jeremias Fufugal Faeldonea, one of the subjects of the undersigned writer's story (Front page banner story February 25, 2009 entitled "AFTER THE LONG WAIT: 'Band of brothers' troop Capitol for Uncle Sam's aid).
Secretary Ronaldo Puno of the Department of the Interior and Local Government (DILG) yesterday reminded local chief executives to stop charging "pass-through" fees from delivery trucks carrying certain products, including foodstuff and other agricultural goods, as such acts are illegal under the Local Government Code.