PURR
Cheercamp for a cause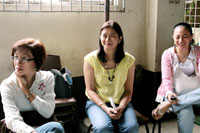 KKK members, Drs. Lita Fe Paclibar,
Geraldine Gubatina and Eileen Granada.
Cheers, chants, motions, jumps and other stunts were witnessed during "Cheercamp", a cheerleading and cheer dancing workshop held at the St. Joseph School gym recently. This was attended by students from different private schools of Iloilo who wanted to become better cheerleaders. Discussions on the history of cheerleading, its development stages, principles, methods, characteristics and techniques, among others, took place, too. At the end of the day, the students were asked to apply what they have learned.
The cheerleading team was composed of Lalaine Perena, NCCA champion and head coach of the UP Pep Squad coach; Nino Jose Antonio, coach; Kiko Cortez, Carlito Serrano Jr and Andrea Kristela Gonzales, members.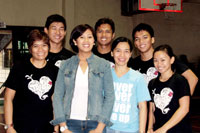 Lalaine Perena, Carlito Serrano, Elena
Torre, Nino Jose Antonio, Socorro
Martinez, Kiko Cortez and Andrea
Gonzales.
What's special about this activity was that the students, in their endeavor to improve their cheerleading skills, also helped in the chemotherapy treatment of children with cancer.
The activity was organized by the Mga Kaibigan ng Mga Kabataang May Kanser (KKK) in order to raise funds for the children under its care.
The activity was sanctioned by the Cheerleading Philippines (CPF).
"It is the national confederation of Cheerleading organizations. It is the national governing body of Cheerleading and Cheer Dance in the country. Its primary activities are organized through standing Commissions that are each responsible for some aspect of the sport's development in the country. The CPF is mandated to sponsor and sanction cheerleading & cheer dance competitions and a variety of national and international cheerleading competitions, including the Cheerleading World Championships, the Asia Cup, the IFC World Cup. CPF President Evan Alvia has given their support for this event, and is very happy that KKK has taken the initiative to undertake such an event. CPF has plans of giving a follow-up workshop for coaches of the different schools' workshop, sometime on April this year," said Dr. Martinez, KKK president.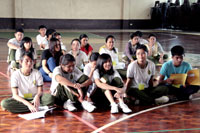 Participants at St. Joseph School
gymnasium.
KKK would like to thank the following for their support: Mirella Clarete of House of Dance (Manila), Sarabia Manor Hotel, Janice Gimenez and Gyzer, and the Garcia Family of St. Joseph School.