Oscar behind the camera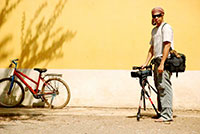 Oscar Reuben "Oskie" Nava, 28, is responsible for the direction of Ilongga Ka Day and Sikat Ka Iloilo, top-rating programs of ABS-CBN Iloilo. He started out as a cameraman for the network's TV Patrol Iloilo and became a director of its programs and recently, episodes for Inside The Cinema with Boy Abunda under Cinema One.
He is the man behind ON Creative, a production outfit which is responsible for producing award-winning films. One of them is "Hupa", a documentary depicting the events in Iloilo City during Typhoon Frank. This won Best Picture, Best Scoring, Best Editing, Best Production, and Best Story in the Moonrise Film Festival 2008.
Get to know more about this man behind the camera.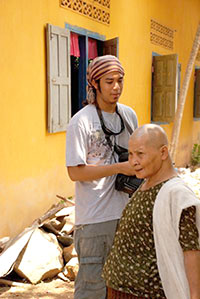 Oskie on location.
Kathy M. Villalon (KMV): Describe Oskie Nava as an artist.
Oskie Nava (ON): I'm a storyteller who frames vignettes of life with a camera. I have no definite style because I'm still learning and would like to explore different genres in filmmaking.
KMV: How did your career in film come about?
ON: It all started in 2006 when I was documenting the oil spill in Guimaras, where I met different filmmakers. I was asked to make a short film entitled "Guima", which was shown in several screenings in Manila. Months later, I teamed up with Ray Gibraltar and JIE Teodoro for our film "Syokoy" under ON Creative Production.
KMV: How does it feel to be behind camera? What are some of your memorable experiences in relation to this?
ON: Being behind the camera is a feeling that I can't explain. Different visuals pass through my mind while the camera is rolling. The most memorable experience was documenting our experience during typhoon Frank, which made me very emotional weeks after that.
KMV: What films have you made?
ON: As director - "June 21" (A work-in-progress documentary); and "Guima" (2006), a short narrative about Guimaras oil spill. As producer and cinematographer – "Syokoy" (2006), a documentary film on Guimaras oil spill that won Best Regional Documentary in Gawad CCP; As producer and cinematographer - "When Timawa Meets Delgado" (2007), which talks about Filipinos, Nursing and migration issues; "Joy to the World ang Procession" (2008), a full-length narrative on Man's life stages paralleled to the passion play of Jesus Christ's life; and "Panudlak: Welcoming the Dawn" (2008), a documentary on the lives of two VSO Bahaginan volunteers in Cambodia.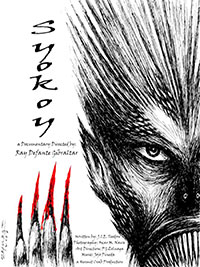 Syokoy.
I also made "Hupa" (2008), a documentary depicting the events in Iloilo City during Typhoon Frank, which won Best Picture, Best Scoring, Best Editing, Best Production, and Best Story in this year's Moonrise Film Festival.
The Moonrise Film Festival features documentaries on the world's foremost cultural, environmental, and social issues. This environmental documentary film fest aims to make the public aware of the issues surrounding the environment through the film medium. Anyone can participate and the event is usually held in Manila.
KMV: Which television and film personalities do you wish to work with and why?
ON: Lars Von Trier pioneered Dogme 95, an avant-garde filmmaking movement in 1995. Its goal is to purify filmmaking without expensive special effects, postproduction modifications and other gimmicks. Von Trier emphasizes that filmmakers should focus on the actual story and on the actors' performances.
KMV: With your looks, is there a chance for you to be in front of the camera?
ON: I played an alcoholic in our latest film "Joy to the World ang Prosesyon". Nothing too ambitious for me.
KMV: What other things are you into? Kindly elaborate.
ON: I like watching massive amounts of DVD. Also, I'm into photography.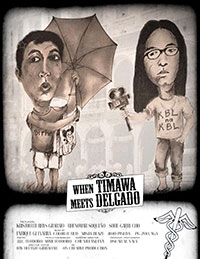 When Timawa meets Delgado.
KMV: Film is a very potent educational tool. Are there issues or concerns that you would like to influence the public with?
ON: The public shouldn't always view film as a tool of entertainment but a free expression of an individual or a society.
KMV: Do you see yourself still in your line of work five years from now?
ON: Yes, why not?
KMV: What's the most important lesson you have learned?
ON: Don't drink and drive.