FCC-CPC Friendship Game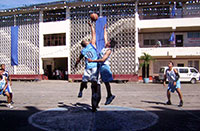 A jump-ball signals the start of the
friendship game.
ROXAS CITY – A friendly basketball competition between the basketball teams of the Faculty and Staff of Colegio dela Purisima Concepcion (CPC) and Filamer Christian College (FCC) was held for the first time during the 61st Foundation Week Celebration of Colegio de la Purisima Concepcion, February 16-20, 2009.
It was an invitation to instill camaraderie and friendship among the faculty, staff and employees of the two higher education institutions in this city.
FCC FASA consistently dominates from the 2nd to the last period of the game and astoundingly seized the lead with a slip of 79-76 edge in the last four seconds of the last quarter.
With a strong and intact line-up, with only nine players in the team present, FCC FASA team besets its foes with a strong defense and offensive moves throughout the game, they trounced CPC's B/B team and finished a promising 3-point lead victory.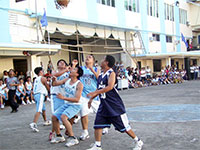 Game.
CPC B/B team hopes to return bout when FCC will celebrate its 105th Foundation Day Celebration in August this year.
The friendship game is ensured to be possible each year to keep the spirit of camaraderie and sportsmanship and encourage physical fitness among employees of the two schools.