Cold and Bold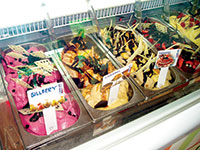 Billbery, Caramel and Tiramisu.
Gelato saves the day!
It would have been another humdrum day if not for that serendipitous trip to NOTHING BUT DESSERTS at The Avenue. Nothing can lift flagging spirits the way ice cream can, and at Nothing But Desserts, it's not your usual, run-of-the-mill ice cream -- it's honest-to-goodness, real artisan gelato!
The intrepid ice cream licker has now 12 reasons to celebrate what with the emergence of a gelato corner that boasts of a dozen flavors at this newest and hippest dessert shop in town. As the premier purveyor of MokkiLato real artisan gelato, Nothing But Desserts (NBD) is going all out in satisfying this city's mammoth craving for real Italian ice cream. According to Miner del Mundo, chef and consultant to The Avenue's Nothing But Desserts, the gelati are made fresh daily in the store using the first and only gelato machine in Western Visayas. Light, low-fat, and utterly delicious, these gelati from NBD will not break the bank or even your diet.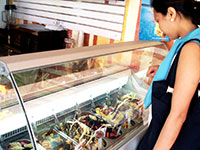 Checking out the selection.
With NBD's ever changing roster of 12 lick-and-slurp-worthy flavors: Macadamia, Hazelnut, Vanilla, Black Chocolate, Tiramisu, Pistachio, Caramel, Almonds, Mascarpone, Strawberry, Chocolate and Bilberry, NBD is close to becoming the ultimate dessert destination in the region.
And so if you're feeling down, bored, or a little out of sorts lately, don't fret. We suggest you try the Mascarpone or the Hazelnut and let the melty, creamy goodness of real Italian gelato save your day.