Make it a Freska habit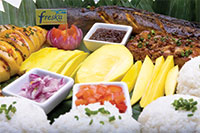 Every bite, every taste of food enjoyed
at Freska leaves a delightful experience
on every customer..
Whenever we think of a place to hang-out after a hard day's work, if we want to relish fine dining or simply relax by having a few drinks, we think of something that is truly Ilonggo.
And since we Ilonggos are very discriminating, we can tell if a food is good or not.
So, if you're on the lookout for that good food for a good time, there's one place to comes to mind --- Freska.
Freska is an authentic Ilonggo restaurant that offers a wide array of Ilonggo classics. It's a place where families and friends bond.
PANCIT EFUVEN. Noodle lovers will find pancit efuven the best choice. It's not your ordinary pansit as this tastes quite similar to pasta. It is served with chicken slices and vegetables.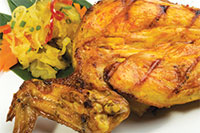 Chicken Inasal..
CHICKEN BINAKOL. Freska makes an irresistible classic chicken binakol. This hearty soup made of coconut juice with the combined effect of rich coconut meat, the sweetness and tanginess of vegetables and the lemongrass scent, will definitely be enjoyed.
SINIGANG NA MANAGAT. This is another popular Filipino food that comes to life when Freska uses local Ilonggo ingredients to add zest to this otherwise, clear and simple soup. Its vegetables are string beans, eggplants, radishes, tomatoes and onions; they give color and flavor to the dish. The secret to its taste is "batwan", a locally-grown fruit that provides the sour flavor.
CRISPY PATA. Crispy pata has always been a favorite dish to excite many celebrations. Who can't resist pig's knuckles simmered in a unique marinade and deep fried in a special procedure, until crispy and golden brown? So yummy! It's amazing combination of textures and flavor that make the dish an excellent partner of ice cold beer or garlic rice.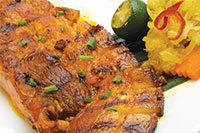 Grilled Liempo..
DIWAL. Get a taste of the mouth-watering diwal, a local seafood from nearby Capiz. It's presented with cheese and butter toppings; diwal melts in the mouth.
STEAMED OYSTERS. Don't leave Freska without ordering the steamed oysters. Freska cooks it without destroying its freshness. Dip it in vinegar and enjoy the dish.
What other delights does Freska have in store for you? The list goes on with the eternal Kansi, Baked Scallops ala Pau, Grilled Giant Squid, Grilled Liempo, Chicken Inasal, Adobado na Hito, KBL (Kadyos, Baboy and Langka) and the Ilocano adaptation, Pinakbet na Bagnet.
To cap our tasty litany, imagine a heavenly concoction of local bananas cooked to tenderness with caramelized muscovado sugar and molo fritters drizzled with chocolate sauce and topped with caramel ice cream. This is Freska's topseller, Bananas de Molo. And if you wish to be safe with an all time favorite, Brazos de Mercedes, Freska's version Braso ala Mode is a wonderful alternative. The scoop of vanilla ice cream topping is an innovation to indulge on.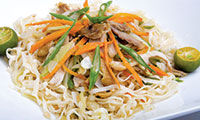 Pancit Efuven.
Freska has reasonable prices. The place maybe "sosyal" but dining there will not burn your pockets. And hey, you may not believe this but Freska's beer balloon of 5 beers with sisig, oysters and peanuts for pulutan is only P299! This is a real feast for your barkada!
Every bite, every taste of food enjoyed at Freska leaves a delightful experience on every customer.
You'll be coming back for more until it becomes a Freska habit.
Freska Seafood Restaurant is located at Smallville, Diversion Road, Iloilo City. For catering and reservation, please call 3213885.