First District Board Member Mac Napulan is appealing to the general public and management of all water-refilling stations to heed Health officials' plea for water analysis.
City Mayor Jerry P. Treñas yesterday confirmed that he told City Councilor Ely Estante to study the possibility of passing an ordinance requiring hotels to have close circuit television (CCTV) cameras for the protection of their clients.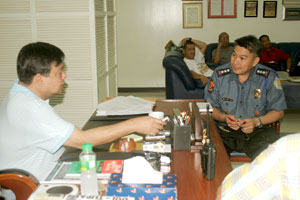 A.CHRIS FERNANDEZ
Yesterday's scheduled probe by the Committee on Justice, Good Government and Human Rights had to be canceled. And from the looks of it, permanently, too.