The 'mama' behind Monyeka Festival: Varvin Hope Simone Hiñola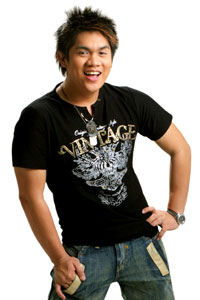 Mama Monyeka.
The Monyeka Festival airing weeknights at Campus Radio, GMA has gained a huge following. Why? Credit it to Mama Monyeka (Varvin Hope Simone Hiñola in real life) --- frank, alert, happy and has an endless vocabulary of funny words and antics that only a few can imitate.
He was born on November 23, 22 years earlier in Dumarao, Capiz. He grew up in Roxas City. He is the son of a politician, thus he grew up keeping his "true sexuality" until he was given a break in GMA. Then, he became what he is now, a celebrity admired by many.
Get to know more about him in this interview.
Kathy M. Villalon: Why did you choose the name "Mama Monyeka"?
Mama Monyeka (MM): While I was a student of Masscommunications at St. Paul's University of Iloilo, there were 19 of us in the class, wherein nine were "dalagitas" and we called each other "monyeka" (doll). Using that name will constantly remind me of our happy days together.
KMV: What led to your entry in the media industry?
MM: It was Sir Dado (Tan) who honed me to become who I am right now. When I was 17 years old, I was a practicum student at GMA. My good performance led the company to hire me for Bongga as a voice over personnel. Then, I became a floor director, and later on, a head director. My stint in radio was when I became a guest in "Talk to Papa", an afternoon radio show. My jolly and bubbly personality led the management to give me a radio program in the evening.
Now, I am a host in Istayl Naton and Arangkada.
I practically have four job descriptions --- TV host, segment producer, writer and disc jockey.
KMV: That's a lot of jobs. Do you ever have time for other things?
MM: Well, I have four hours of sleep a day. I wish I could go around with friends, but there seems to be no time. I sleep at GMA most of the time now.
KMV: Do you think you were born for this job?
MM: Yes. It runs in the blood, I think. Singers Nina and King are my cousins. I can also sing and write music. I'm sure you've heard of the song "Inday Tuwad," which I wrote.
KMV: Is Mama Monyeka the same in radio and TV?
MM: There's a big difference in my personalities in radio and TV . In radio, I'm all out ... no inhibitions. On TV, I exude a little finesse and calm.
KMV: What would you consider as your achievement?
MM: This (being in radio and TV) is one achievement that I did not expect.
KMV: Where will you be five years from now?
MM: The Mama Monyeka you know today will be the same five years later.
KMV: What advice can you give to aspiring Djs?
MM: Don't hold secrets. The more open you are, the more transparent, the better. I'd rather be hated for who I am than be loved for who I am not.