PINK PEPPER
SM's Greenbag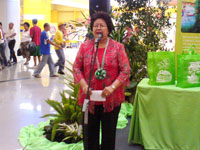 Representing DENR is Amy Guillergan.
SM City Iloilo and other SM malls nationwide joined hands to save Mother Earth by launching the reusable Green Bag last Jan. 16, 2009.
The Green Bag is a non-woven fabric bag made of 100 percent polypropylene and designed by renowned Filipino artist Manuel Baldemor.
Polypropylene is recyclable, non-toxic, allergy free and non-reactive to human skin. This bag may last up to two years of weekly use.
Amy Guillergan of DENR 6 is happy that SM Supermalls contributes an important share of helping the government in protecting the environment through this laudable project.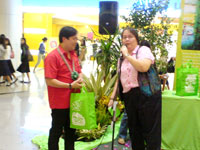 Vice Mayor Jed Mabilog and
environmetalist Marissa Segovia.
SM Supermalls is privileged to be a venue for raised public consciousness. They have become a venue to encourage action and to educate. Clearly, they saw their responsibility to stimulate, motivate and involve their staff, tenants, contractors, suppliers and customers to be stewards of the environment.
SM believes that widespread understanding amongst people who are bonded by a shared purpose for the environment, can work together to make sustainable development a reality.
The exclusively designed Manuel Baldemor SM Supermalls collectible Green bags are available at the Green bag booth at the mall hallway until April 30, 2009.