One Fine Dinner Party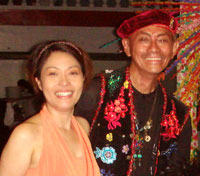 Pangging Rosales with The Man of
Allure Emanuele Lopez.
The Strawberry House of society maven Norma Padilla -Rosales located at the busy General Luna St. came alive on Sunday of Dinagyang Week when the family hosted once again their annual thanksgiving dinner to guests of more than one hundred and fifty close friends and relatives. This annual event is in celebration to the feast of Sr. Sto Nino which, according to Norma had been her source of countless blessings and protection.
On hand in entertaining their many visitors from here in abroad are Norma's equally vivacious and sociable daughters Pangging and Pane Rosales who are up on their toes all night in making sure that all their guests were most comfortable. Guest of honors that night were friends from the New Jersey namely Nimia Lacebal and Dr. Ellice Flores and the fun to be with Joji Juele -Jalandoni of New York City. Also present were their good friends from Tokyo, Japan the amiable couple Gina and Ken Onda with their companion Lydia Gomez.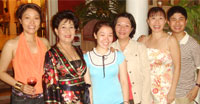 The Rosales Family - Pangging, Norma,
Breann Chaplin, Baby, Pane and
Nikko Cid.
The buffet table was filled with delicious fares like Callos, Legua Con Setas, Paella, Jungle Steak and seared Norwegian Salmon, and more which were prepared by the city's sought after caterer Ding Montelibano.
The party was indeed filled with gastronomic flair, interesting personalities and non-stop revelry that clearly stamped the name Norma Padilla -Rosales as a top hostess for all season.
Cheers!!!