Tom's Passion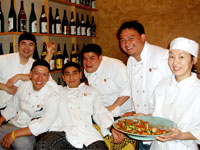 With Nobu Chefs Rick.
During the 70's, the name "Bascon" has always been synonymous to the hotel in Bacolod City's downtown area. In a city where hotels were few and far between, the Bascon Hotel stood out from among the buildings that made up the city's commercial center. In fact, there was a Bascon Hotel I and II, one of which remains in operation today and is run by Oscar (Dodong) and Carminia (Mencit) Bascon.
Today, the name "Bascon" is synonymous to food, thanks to their children who have brought culinary delights in Negros by way of a fast-food chain called "Dodong's" during the late 90's; in 2003, they opened the now sought-after Bascon Café, and in 2008, the second branch of the cafe. If you think it stops here, think again.
Silently working the kitchen of Nobu, one of New York's trendiest and finest restaurants, is Tom Bascon, eldest son of Dodong and Mencit. He is an "Omakase Chef" or a "Tasting-Menu Chef", handling a special menu that covers about seven courses, and a price range that starts at $100.00. Having lived in the States for close to twenty years now, Tom knew that his culinary expertise was only meant for the fine restaurants of Manhattan.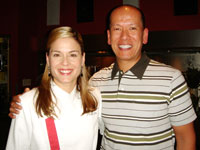 Tom and Catherine 'Cat' Cora of Iron Chef
America.
Armed with his degree from the French Culinary Institute in New York, Tom knew that he had to get his "foot in the door" to achieve his dream -- a mission that wasn't so impossible to a guy who thinks cooking isn't just a part of life, but is a passion he nurtures and savors. So when his foot finally got in the door, he jumped in head first, and has been cooking for the glamorous crowd of "Manhatt'n" for the past four years. And Tom didn't just get his foot in an ordinary door. He chose Nobu's door, owned by the legendary Japanese Chef Nobu Matsuhisa and a few others, one of whom is the famous actor, Robert de Niro.
But if you think it stops here, think again. While he is busy in the kitchen in Manhattan, Tom's ingenuity travels across the Pacific because he also co-owns Bascon Café in Bacolod, with his sister Marili and her husband, Leonard. Some of the café's specialties sprouted from Tom's culinary ingenuity. From Nobu's sophisticated blend of Japanese and Peruvian cuisine, Tom re-invents himself to delicious home-cooked meals in the café's menu, a flavor that Bascon is known for. With the numerous cuisines his palate has tasted, Tom's favorite remains to be Filipino, and he proudly shows it at Bascon Café.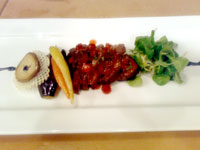 Pan Seared Wagyu Beef.
Tom considers his work a challenge. But it's a challenge he can easily overcome because it's something he enjoys. As he said, "to be able to cook, you have to have passion". This passion results to some of his creations like: Pan Seared Wagyu Beef with a currant ama ponzu glaze, mache salad, sautéed baby carrots, eggplant, foie gras tourchon on a potato gaufrette with aged trebbiano and balsamic reduction; or, Crispy Wild Striped Bass with an aji amirillo-coconut sauce, sautéed seasonal vegetables and Belgian Endives.
When he peeps through the kitchen's swing doors and sees personalities like Magic Johnson, Paul McCartney, Jennifer Aniston, Tom Cruise, the Clintons, and a slew of other celebrities enjoying his creations, Tom can only stand back and smile with pride. Then he's off to prepare the next customer's platter because his passion never rests and there's never a slow night in the glitzy world of Manhattan.