Rattle and Roll
The Pyro Musical Showdown 2010 at Iloilo Supermart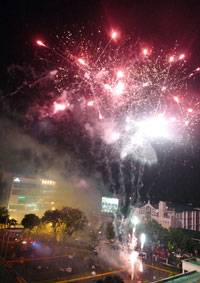 As the rain poured last December 10 in the city of Iloilo, Ilonggos still flocked to witness the Pyro Musical Showdown 2010 of Iloilo Supermart.
When everything was all set, the crowd started to count 5,4,3,2,1! Then everyone was stunned with striking fireworks that beautified the rainy sky.
There were three highly acclaimed pyro teams that loosened the finest of blasts along with the perfectly-tuned music.
The crowd cheered every time they witnessed an amazing display. They had a hard time deciding on who their favorite team was. It was Team San Miguel, powered by Peacock Fireworks that was declared as the champion. The other participating teams were Lee Fireworks and Pyrohaven.
The remarkable event was supported by San Miguel Corporation, Del Monte, Procter & Gamble, Nestle, Meadjohnson and Century Tuna.
Iloilo Supermart will never stop giving the best to the Ilonggos. Like the Pyro Musical Showdown 2010: Lights, Rattle & Roll.
Only from Iloilo Supermart. Kay sa aton lang guid ini! Happy Holidays!