Hartman's Costume Party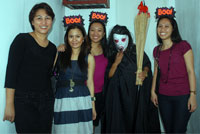 Dr. Blanche Garcia, Dr. Charlotte Pacardo, Dr. Cristine Train and Atty. Jun Borres.
Hartman Dialysis Center held a fun-filled costume party recently. Atty. Jun Borres, led the pack of party-goers by wearing a Scary Movie costume. Well, most of them came in their scary costumes!
Hartman Dialysis Center is located along Gen. Luna Street. It aims to provide quality and cost effective hemodialysis treatment to advance or end stage renal disease patients through a caring and healing environment that utilizes state of the art equipment. They make use of the Fresenius machine. They also have credible nephrologists, staff nurses, technicians and a house physician.