PURR
Garden of the Ascension's Bora Night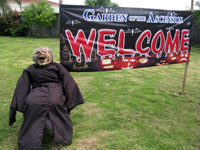 George welcomes the Guests to Garden of the Ascension-Iloilo.
Garden of the Ascension Memorial Park (GAMP) makes it a point to introduce fun events every year. This year's celebration of All Saint's Day had a Boracay feel to it. The rain wasn't a hindrance to the party. In fact, it even revved up the island atmosphere while the public watched the dance presentation of the Angles Squad, the awesome performance of Boracay fire dancers and the lively reggae band.
The kids had a grand time at the costume party as well. Cash prizes and goodies were given to the winners. Everybody had fun at the Plants vs. Zombies game, too. The winner received a cellphone while others got consolation prizes for their effort.
Due to the rain, the fireworks display competition was moved to GAMP's Christmas Party, which was held last December 11. Now, that was a superb celebration as well and we're going to reserve the details for our next issue.
GAMP lot owners and friends as well as its sales agents, can attest to the fun-filled activities that the company dishes out every time there is a special occasion. Jaresh Ng, general manager and his staff, take pains to make sure that every celebration is awesome.
So, till next year!