PURR
The Master Chefs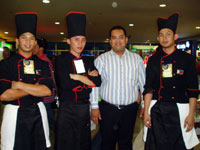 THE CHAMPIONS, WIT. Joed Napalinga, Ronil Gepilga, Dodge Borja and coach Nick Alfred Umad.
For the second year, SM City Iloilo held the SM Master Chef competition. Here, teams comprised of Hotel and Restaurant Management students from different schools were asked to create three recipes containing a common ingredient. Last year, it was mango. This year, the common ingredient was crab meat.
The schools that participated were Western Institute of Technology, champion; Colegio de Sagrado Corazon de Jesus, 1st runner-up; University of Iloilo-PHINMA, 2nd runner-up; and Central Philippine University, 3rd runner-up. The champion received gift packs from Unilever, Ajinomoto, Sunnex and SM Supermarket, gift certificates from SM City Iloilo and a trophy.
The judges were Chef J Gamboa, Ariel Manuel, Cyrille Soenen and Margaux Salcedo.
SM Master Chefs was one of the activities held in line with SM Culinary Festival. The mall tapped the expertise of Chef Ramlo Villaluna to successfully put the event together.