PURR
Christmas Wishes
Miss Iloilo Dinagyang 2010 candidates share their Christmas wishes for themselves and the city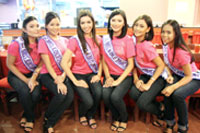 LAST December 1, the Miss Iloilo Dinagyang 2010 candidates were presented to the press at Hongkong Kitchen, Robinsons Place Iloilo. These lovely ladies were asked several questions and they answered with the hope of getting the Darling of the Press award, which will be announced during the pageant on January 2011.
Also present were Rene Salud, the official fashion designer of the Miss Iloilo Dinagyang 2010 pageant; SPPR Productions' owners Sarah Peña and Beverly Rosales and the project's steering committee.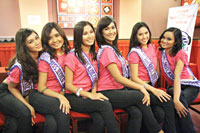 Kehyrziakshayne Dinopol
My Christmas wish for the city of Iloilo is progress and wonderful changes under the governance of Mayor Jed Patrick Mabilog. I think that with better tourism, our city will progress. One way to attract tourists is to develop our roads and implement proper waste disposal. Let's also remember the cultural aspect of Dinagyang Festival by acknowledging the IP (indigenous people) community.
Zyra Grace Vedad
Iloilo is known as "The City of Love." Ilonggos are known for their sense of love and their instinct to protect their place and their environment.
As a Tourism student, my only wish for this lovely city is for its citizens to continue loving and protecting it. It is our contribution to a better region and country, so we could become globally competitive. Merry Christmas!
Angelyn Presidente
There must be a good relationship between our leaders so they could plan better for our city's development. I wish for more opportunities for Ilonggos to uplift themselves.
Rain Catapang
I wish that my parents are here to spend Christmas with me. For many years, they're not here. So, I wish that this time, they're here.
Sigrid Grace Flores
I wish for less traffic.
Sunshine Perillo De Guzman
I wish for a progressive city, a good government, unity and more opportunities for the Ilonggos.
Krishia Lei Digo
I wish for enough power supply. No to power shortage!
Gretchen Grandeza
I wish for a happy Christmas with my family and friends.
Leonor Faunillo
May this Christmas be willed with love and peace for everybody.
Sofialyn Ulloa
All I want for Christmas is to spend it with my family. I wish my family more happiness and success.
Samantha Marie Amparo
This coming Christmas, I want to spend another memorable moment with my family. I want it to be simple yet meaningful.
Nadaine Broniola
I wish for someone to stay beside me. Someone who is patient and who will always love me.
Caption for pics group1 and 2.jpg
Zyra Grace Vedad, Samantha Marie Amparo, Leonor Faunillo, Nadaine Broniola, Kehyrziakshayne Dinopol, Sorialyn Ulloa, Angelyn Presidente, Gretchen Grandeza, Krishia Lei Digo, Rain Catapang, Sunshine Perillo de Guzman and Sigrid Grace Flores.