Ilonggos comprise core of PHL football team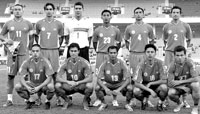 PHL football team.
Seven booters comprising the core of the Philippine Football Team known as "Azkals" playing in the ASEAN Football Federation Suzuki Cup 2010 are Ilonggos from the soccer-crazy town of Barotac Nuevo, Iloilo.
The "Azkals" have advanced to the semi-finals after their match with Myanmar ended up in a draw, 0-0, Wednesday night.
Before their surge into the semis, the Philippines beat defending champion Vietnam, 2-0, and also had a draw with Singapore.
They earned the second spot in Group B, next only to Vietnam.
Both countries joined the Top 2 from Group A – Indonesia and Malaysia –
in this week's semi-finals.
Celebration
Duffie Botavara, secretary general of the Iloilo Football Association, football aficionados in the country celebrated the "Azkals" stunning upset of ASEAN Champion Vietnam last Sunday.
Botavara, himself a former national standout, said the seven Ilonggos in the team are Ian Araneta, Yanti Bersales, Mark Ferrer, Chip Caligdong, Noel Gener, Joven Bermejo, and Nestor Magarce.
Mariano "Nonong" Araneta, current Philippine Football Association president, was exuberant over the national team's vast transformation, after decades of being Asia's favorite whipping boys.
The Philippine team's rousing win over powerhouse Vietnam has certainly upped the country's ranking several notches higher in the region.*with reports from PNA