WONDER V
Celebrating a dream come true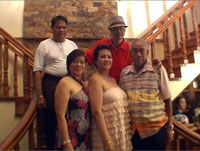 Norberto, Primo, Mamerto, Flora and Edna Pelopero.
Everybody dreams of having that stylish and posh abode, but not everybody gets to fulfill this dream.
While others content themselves of building castles in the air, siblings Primo and Edna Pelopero, both registered nurses in Texas, and their youngest sibling, Flora Pelopero, worked hard and managed their finances wisely in order to make their dream house come true.
And because a dream has come true, a three-storey poshly-designed mansion with eight bedrooms and nine bathrooms to say the least, a party was held to celebrate God's blessing to the Peloperos after their mansion was blessed one Saturday afternoon. Friends, relatives and guests couldn't help feeling in awe with what they saw inside and outside of the Pelopero abode(my favorite part of the house was the staircase leading to the second floor) that, beyond the shadow of doubt, exuded class and elegance. And of course, the food and the drinks served during the party were suggestive of the good taste and generosity of its owners! Perfect.
The Pelopero mansion in Jaro is a reminder that not everything that starts as a dream has to end as a dream.
Nanalig ba kayo dyan?!?!