Handuraw: A Noble Cause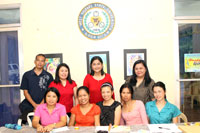 WVSU-BSMC Journ Batch 2000.
WVSU-CMC Journalism students and IYO are beneficiaries Journalism students from the West Visayas State University College of Mass Communications (WVSU-CMC) and the Iloilo Youth Orchestra (IYO) are beneficiaries of Handuraw, a dinner-concert organized by the WVSU-Institute of Mass Communications (IMC) BS Mass Communications, Major in Journalism Batch 2000 after a decade of graduating from their alma mater.
Handuraw featured the Iloilo Youth Orchestra recently at WVSU AV Hall, La Paz, Iloilo City.
Sponsors for this event are ABS-CBN Iloilo, AK Designs, Centrist Democratic Movement Federation, DeQalidad Entertainment Management, Human Nature, KGPP, Inc., Lex Reviews and Seminars, Inc., Tatak Ilonggo, The News Today, TM Photography and Winner's Gym' Fitness Garden.