Six Ilonggo films in Bayhon to tour region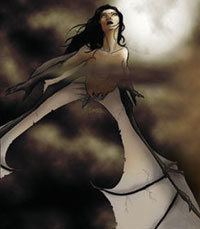 THE first Ilonggo Film Festival was held in Iloilo City nine years ago. Today, the University of the Philippines Visayas – Division of Humanities brings another film festival of sorts by producing "Bayhon", a collection of six indie films which it will tour around Iloilo and Western Visayas starting this November 2010. This will only be the second time that a collection of Ilonggo films by an all-Ilonggo production team is shown to the public. Bayhon is set to be shown in elementary and high schools around the region.
Bayhon features five short films and one 3D animation film. The films are all in Hiligaynon, the lingua franca of Western Visayas. They are adaptations of Ilonggo folk stories taken from a research conducted by faculty members of the UP Visayas Division of Humanities and the UPV Center for West Visayan Studies.
The storie in Bayhon center on Ilonggo values, culture and beliefs, although each film takes a different approach. One features an aswang who wants to pass on her amulet to her son; another, a kama-kama (elf) who falls in love with a widow; another, a man who battles with a tamawo prince who abducted his lover; another, an enchanted island protected by its supernatural inhabitants; another, two siblings who discover that their mother has a babaylan sister; and another, a fisherboy who falls in love with a winged fairy princess. The animation and the magical elements make the films appropriate for students as young as seven. The love stories in the other films also make Bayhon interesting even for more mature viewers like high school and college students.
The Bayhon project is headed by Prof. Kevin Piamonte, one of the most prominent and most sought-after theater directors in Western Visayas. As a filmmaker, Prof. Piamonte has also won in a scriptwriting competition in Hollywood. With him are: Prof. Babetth Fuentes Vargas, a former broadcast media practitioner; Prof. Robert Rodriguez, an award-winning theater performer; Prof. Vicente Tan, chair of the UP Chancellor's Committee for Culture and the Arts; Prof. May Belle Guillergan, a film and mass media expert; Prof. Emmeline Cabalum, another broadcast media practitioner; and Prof. Jonathan Jurilla, a 3D animator, pop culture expert, and Palanca awardee for Short Story in Hiligaynon.
Bayhon is endorsed by the Department of Tourism – Region 6, the Department of Education, the Commission on Higher Education, Mayor Jed Patrick Mabilog, Congressman Jerry Treñas, and Gov. Arthur Defensor.
Inquiries about Bayhon and its Western Visayas Tour may be sent to the Tour Manager, Mr. Emmanuel Lerona at 0908-886-3626, (033) 513-7011 or bayhonfilms@gmail.com. (Photo source: hubpages.com/ hub/ Reliable-...es-Aswang)