Crossing Bridges: An Update
The Journeyman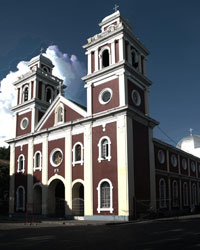 San Jose Church.
Crossing Bridges is a program hosted by the Federation of Philippine Photographers. This year, photographers from Southeast Asia came to take pictures of different sites in region 6.
The backdrop is the San Jose Catholic Church in Plaza Libertad. They also took pics of 72 churches, including the Agustinian churches, Jaro Cathedral, San Joaquin Church and Miag-ao Church. Another tourist attraction in San Joaquin, the Pasungay, was also included.
The Photographic Society of Iloilo hosted the activity that took place last Nov. 23 and Nov. 24, 2010.