Five Years, Five Million Ways
Make Your Own Havaianas on its 5th year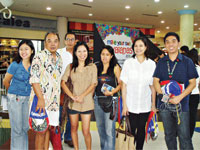 The Iloilo delegation to MYOH's 5th anniversary.
Make Your Own Havaianas has always inspired flip-flops fans to unleash their creativity and let their imagination go wild. To celebrate their fifth year, they held a Make Your Own Havaianas activity at Robinsons Place Bacolod recently. They offered a number of stylish, new options – from silver letter pins and Swarovski-studded pins to jelly, fluorescent and glow-in-the-dark Top straps. Those who trooped to the event bought their pairs and had the chance to add more flair to them.
They also offered the Philipine-designed MYOH commemorative sole and pin. This commemorative sole, the first printed sole that was offered at MYOH, spells out MYOH using sign language to symbolize how each pair is lovingly assembled by the hands of the dedicated MYOH staff.
"Make Your Own Havaianas is really a labor of love from the brand," says Anne Gonzalez, managing director of Havaianas Philippines. "We really try to come up with enough options so that every person can create a pair that's perfect for them."
From the looks of it, the MYOH in Bacolod showed that Havaianas has really gone all out because of their fifth anniversary, a real milestone for the brand.
The News Today, represented by Kathy Villalon and Nonoi Ybiernas, along with other media practitioners from Iloilo joined in the celebration and had the chance to choose and design their pairs. They were joined by students from varied Iloilo universities who wanted to experience MYOH. The trip was organized by TMX, your travel and marketing experts. (Photos by Kathy M. Villalon)