UI-PHINMA to honor Iloilo's outstanding school teachers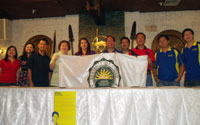 UI-PHINMA's president Chito Salazar (6th from left) poses with partners after the Memorandum of Agreement signing held at Hotel del Rio last Nov. 20, 2010. CLAIRE TABUCON PHOTO
UI-PHINMA's Programang Gawad Dunong, in cooperation with the Department of Education , Office of the mayor, Office of the Governor, Iloilo Chamber of Commerce, Iloilo Business Club and the Iloilo Economic Foundation has opened nominations for the 2011 Gawad Dunong Awards.
"Gawad Dunong Awards was launched to pay tribute to the teachers of Iloilo who have made it their life's mission to tirelessly impact knowledge to the youth," said Mr. Nigel Cabison, Dean of UI-PHINMA's College of Education and director of Programang Gawad Dunong. "It seeks to celebrate outstanding individuals in the Academe by recognizing those who exemplify the qualities that a teacher should have – integrity, respect for his vocation and for people, community involvement, innovativeness, passion, commitment and the tireless pursuit for excellence".
Anyone can and may nominate full-time public school elementary or high school teachers who are LET-certified, not part of the school administration, is a Filipino citizen, has been a teacher for at lease five years, with a performance rating of at lease Very Satisfactory for the last three years, and who has not won any previous national teacher's award. Deadline for nomination is on January 14, 2011.
"We invite the Iloilo Community to take part in lauding the people who shape the minds and hearts of the Ilonggos," Cabison said, "by coming forward and nominating teachers who have mad a difference in their lives. It is our hope that through this effort, not only will we be able to express our deepest appreciation to them, but also inspire other teachers to make their mark in the lives of the youth."
The Gawad Dunong Awards was created by UI-PHINMA's Programang Gawad Dunong, which provides resources that respond to the needs and requirements of teachers in their pursuit for continuous development. For more information, contact UI-PHINMA at (033)3381071, 09088878579 or evgalves@phinma.com.ph, visit www.ui.phinma.edu.ph or connect with us in Facebook at www.facebook.com/ui.phinma.
With Programang Gawad Dunong, you gain access to:
The Gawad Dunong Award
Join us as we honour service and commitment in the search for the region's best teachers! Open to all public school levels, the Gawad Dunong Award seeks to recognize individual who have made a valuable contribution to their community through selfless service and creativity in teaching.
World Teachers' Day
In partnership with DepEd and SM celebrate World Teachers' Day with teachers from all over in a half-day program with inspirational words, raffle prizes, and boundless entertainment!
A Teacher Resources Center
* With books, journals, video, and more materials on teaching and education,the stages of learning, coping with disabilities, and other relevant topics.
* Discounts on our graduate program: Doctor of Philosophy, Masters in Education, Master in Public Administration and Master in Business Administration.
* Discount on products and services with our partner establishments
* An in-service continuing capability-building program that complements the Departments of Education's INSET program, and is consistent with the National Competency-Based Teacher Standards (NCBTS). Among the topics to be covered are:
English Proficiency Enhancement Development of Valid and Reliable Test Instruments Rubric Development and Portfolio Assessment Integration of Educational Technology to Teaching and Learning
Effective Strategies for Teaching Content Subjects
Building Competence in Doing Action Research
Renewing Commitment to the Teaching Profession
Creating Productive Learning Environments through Effective Classroom Management
Deepening Understanding of How Student Learn
Planning for Developmentally Appropriate and Differentiated Instruction