Is Blogging Your Passion?
The first ever Visayas Blogging Summit and the second Philippine Blog Awards for Visayas this 2010 will be on November 27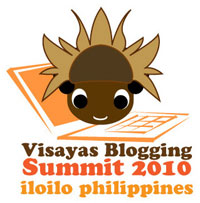 A few bloggers hsve reached celebrity status both online and offline. They usually become famous because of their extensive knowledge and experience as well as their passion for a hobby or activity. Travel bloggers, in particular, gained popularity because they always highlight the best sights and places of interest in different towns and cities in the Philippines. Their blogs are like online travel guides for would-be tourists from here and abroad.
Food blogs, on one hand, serve as a perfect venue for people to see and learn about the uniqueness of the Ilonggo food scene and other gastronomic delights. Ilonggos abroad especially miss the food from home while food tourists cannot wait to discover where to "eat, drink and be merry" in Iloilo.
News and events blogs updated the latest about Iloilo from politics to commerce and industry- the current political situation, business atmosphere and latest construction projects. Blogs about heritage discuss the history and culture of the Ilonggos – the importance of Calle Real's impending revitalizations and the significance of churches to the modern art of "passed" jeepneys. Personal blogs of local media men and politicians share their views online and get instant reaction from readers.
The Iloilo Bloggers
The community of bloggers in the Philippines is one of the most tight-knit groups online. From Luzon, Visayas and Mindanao, the number of Bloggers have increased, and that is just on our local shores. How about Filipino Bloggers from the United States and the Middle East? Wherever Filipinos have access to the Internet, at least one blogger will have connected with fellow Pinoys everywhere.
That is the case with Iloilo Bloggers. This group of bloggers wanted to make Iloilo a visible tourist destination as well as a city of choice for investors. They feel they can contribute to this objective by promoting the city and the province in the World Wide Web. Through blogs, Filipinos, not only Ilonggos, worldwide can discuss anything and everything about Iloilo.
United online and towards one goal, a handful of Ilonggo bloggers founded the group they simply called "Ilonggo Bloggers Inc." in 2008. Among other things, the group wants to contribute to the development of Iloilo by utilizing the power of its member's blogs and uniting Ilonggos everywhere. It look on measures for blogger to be recognized in Iloilo and in 2010 it became an SEC registered non-profit organization.
As a group, Iloilo bloggers have actively participate in the coverage of many activities in and around Iloilo. Being granted passes, it has covered the Dinagyang festival up close together with other accredited media.
The group has been invited to attend various events in Iloilo like product launchings of various establishments, food tasting and review sessions of the different restaurants and seminars & workshops sponsored by IT related organizations.
It also sent some delegates to various blog conventions around the country like Philippine Blog Awards and iBlog. Some members also prepared on local televisions to give some background about blogging.
Also, a number of its members participated in a Google-sponsored event dubbed as a mapping party, which targets to identify Iloilo City Streets, landmarks, establishment, tourist attractions and a lot more to make easier for people using Google Maps. Some members of the organization were part of a group that was very successful in mapping all the voting precincts in Iloilo City in the May 2010 elections.
However, the biggest undertaking of the group is about to take place on Nov. 27, 2010 as it hosts the first ever Visayas Blogging Summit and the second Philippine Blog Awards for Visayas this 2010. Around 200 participants are expected to attend, not only from the Visayas, but also from other parts of the country. More than the summit and awards, one of the main reasons the group decided to take on such gargantuan task even with little experience was to help in the promotion of Iloilo – it's attraction, its heritage, its gastronomy and most of all, its people.
So, on Saturday, Iloilo City will be at the forefront of blogging in the country with these big events. Iloilo Bloggers Inc. is there to make sure Iloilo puts its best foot forward so that everyone will come and leave with only the best Iloilo can has to offer.
Bloggers are invited to attend this whole day activity at the SM Cinema 6.