KGPP launches 'Please Read Us A Christmas Story' in MPES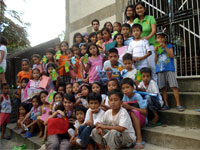 The Volunteers and the kids.
Kabataang Gabay sa Positibong Pamumuhay (KGPP, Inc.), a youth-led non-governmental organization (NGO) launches "Please Read Us A Christmas Story" program in Mandurriao Public Elementary School (MPES), Iloilo City on October 11, 2010.
Mandurriao Public Elementary School was the first school recipient chosen by KGPP for the said storytelling outreach program. Two of MPE's Grade One classes were able to experience the Christmas storytelling by newly-appointed KGPP OIC Executive Director Rhea Peñaflor and volunteer, Cherryl Cadiz.
MPES Principal Alexis Rivas expressed, "this is really a good outreach program for the kids especially that it will help them be interested to keep on reading."
KGPP plans to continue its storytelling program with Grade One pupils from various Iloilo City's public elementary schools as recipients.
Developing the culture for reading among children is the main objective of this outreach program. Also, it is one way of promoting their creativity, imagination and thought process as well as shaping their values to become better when they grow up.
This outreach program is an offshoot of an immersion activity held in Payatas, Quezon City last October 3, 2010.
Payatas is an adopted community by youth leader and AK Designs owner Anna Karina Jardin since 2008 where she gives free art workshops to the children. During the immersion activity which was Jardin's way of celebrating her birthday, a Christmas story was read by Peñaflor to the kids in Sto.Niño De Payatas Chapel. A creative workshop making bookmarks followed and was conducted by Jardin.
The other volunteers who joined the activity are Milad Zali, Monica Jardin, Krizel Balasabas and Krissa Mae Sabili.