The Cignal TV Launch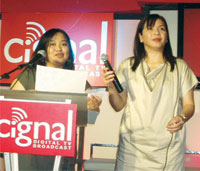 Aida Baltazar, Cignal's managing director and Annie Naval, sales and marketing for MediaQuest Holdings, Inc.
DIGITAL is the new standard that is transforming the way people watch television. Thus, Cignal TV was launched recently before members of the media coming from different parts of the country.
The delegates were given information on why Cignal's Digital Broadcast changes one's viewing experience.
MediaQuest President and Chief Executive Officer Ray Espinosa said that the company is focused on changing the media landscape by providing homes around the country with a 100% digital experience regardless what kind of television set they use.
Digital Television Broadcast is an advanced technology that allows stations to offer improved picture and sound quality because Cignal uses the latest state of the art encoding and compression system plus audio/video processing equipment from abroad.
For more information about Cignal Digital TV Broadcast, visit www.cignal.tv.