Mooon Café in SM City Iloilo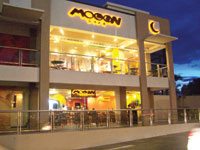 Mooon Cafe, SM City Iloilo.
Where's the next best place to eat in Iloilo? Mooon Café would be a "thumbs up". Most regarded for its distinct, off-the-hook food at peso-worthy prices, Mooon Café has successfully stood out among a bushel of restaurants in Iloilo City risking their way up to win the urbane and finicky Ilonggo market.
This popularity most likely started with the amusing Mexican-inspired theme. You walk in and are immediately greeted by the staff in cute Mexican outfits. You look around and are pleasantly amused by the colorful paintings and fixtures. You take a deep breath and are tickled by hints of Jalapeños and the next thing you know, that sizzling meal is making its way to your table. This rare and awe-inspiring restaurant, which first started out as a nook in Guadalupe, has been delighting the City of Love diners at Robinsons Paseo Iloilo and now, at SM City Iloilo Southpoint.
According to Bunny Pages, CEO of Pages Holding Inc, "The core concept of Mooon Café was already well-established when our family took over its single branch from the previous owner in 2007. Our inspiration was to further create a restaurant brand that would stand out in the market as unique but inexpensive Mooon Café. Our good food, inexpensive prices, colorful and dynamic ambience earned us a wide range of clientele, from young teens to the mature cluster."
As part of their vision, the Pages family aggressively focused on growth to let other people experience the same satisfaction that the first outlet in Guadalupe is known for. In a span of three years, they were able to expand the single branch to eleven branches and counting. Seven company-owned outlets and four are franchised. Opening early 2011 are Bacolod, Davao, Ormoc and Tacloban.