Miss Western Visayas Tourism 2010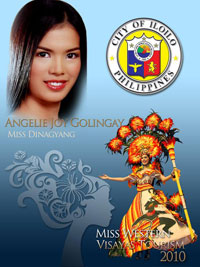 Angelie Joy Golingay, Ms. Dinagyang, Iloilo City.
MISS Western Visayas Tourism is an annual regional beauty pageant promoting tourism awareness. Miss Western Visayas Tourism is one of the most anticipated and publicized beauty pageants. The pageant has been held in the different provinces and cities of Western Visayas, Philippines every year. The reigning titleholders dedicate their year to promote tourism-related projects.
In Miss Western Visayas Tourism, each festival queen is not just physically beautiful, but is knowledgeable terms of the tourism potentials of her city and province.
Nine festival queens will compete for the region's most coveted crown. They are Miss Ibajay Tourism, Julie Ann Dionisio of Aklan Province; Miss Pahinis Festival Queen, Zyra Grace Vedad of Antique Province; Miss Maskara, Agnes Therese Chang of Bacolod City; Miss Halaran, Ivana Isidora Besa of Capiz Province; Mutya Ng Guimaras, Mary Rose Andaluz of Guimaras Province; Miss Paraw Regatta, Pauline Asegurado of Iloilo City; Miss Dinagyang, Angelie Joy Golingay of Iloilo City; Lin-ay Sang Negros, Kareen Ty of Negros Occidental and Binibining Leon Tourism, Nikki Beatingo of Iloilo Province.
In their pre-pageant Talent Competition on November 11, 2010 at the SM City Activity Center, each contestant will put forth all of her energy for a routine that will hopefully outshine the performances of her competitors.
The swimsuit competition is a major category during the coronation night. Catch the ladies as they flaunt their curvaceous figures during their pre-pageant swimsuit competition event on November 12, 2010 at the activity center of SM City Iloilo.
In the final interview, all candidates will answer one tourism-related question and will be assessed by the judges to determine the final ranking. If in case the Miss Western Visayas Tourism title holder can no longer fulfill her duties and obligations, the 1st runner-up will be the one who will take-over the title.
The current Miss Western Visayas Tourism titleholder is Vickie Marie Milagrosa Rushton of Negros Occidental. She was crowned in the Villareal Stadium in Roxas City on December of 2009 along with Miss Dinagyang, Natalie Grace Roberts of Iloilo City as 1st Runner-up and Miss Maskara, Maria Aika Uy of Bacolod City.
The Miss Western Visayas Tourism 2010 is organized by TMX, your travel & marketing experts, in partnership with the Department of Tourism Regional Office and the Province and City of Iloilo will showcase an exciting pageant of cultural celebration on November 13, 2010, a Saturday, 7 PM, at the West Visayas Cultural Center in Lapaz, Iloilo City.