SPPR Reel Productions to handle Ms. Iloilo Dinagyang 2011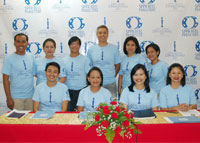 THE ILOILO MS. DINAGYANG 2011 COMMITTEE. Standing: Boni Gaverza, Rowena Barte-Zulueta, Joe Delina, Reggie Bautista, Sweet Sales, Claire Castellano-Altavas. Seated: Kevin Pison Piamonte, Ms. Sarah O. Pena, Ms. Rita Pena and Rinette Bautista-Uy
A new production outfit called SPPR REEL PRODUCTIONS, headed by Iloilo City's credible and dynamic personalities Sarah O. Peña and Beverly "Pangging" Rosales, will be handling the Ms. Iloilo Dinagyang 2011 search.
Peña is a nurse by profession and a philantrophist. She has also taken part in prestigious events here.
Rosales, on the other hand, manages their family business, Eros Botica. Not only is she an expert in management, she is also a fashion icon and a philantrophist. The duo's goal, through their production company, is to "show the capacity of Ilonggos to produce a quality show," according to Rita Peña, daughter of Sarah and the legal counsel for the said outfit.
SPPR Reel Productions was launched in a simple gathering with the media at Iloilo Grand Hotel recently. The steering committee was likewise introduced. The team is composed of individuals who have already carved a name and reputation in the industry. They are Joji "Pane" Rosales, Renette Bautista-Uy, Kevin Pison Piamonte, Joe Delina, Boni Gaverza, Philippe Joshua Uy, Reggie Amunategui Bautista, Sweet Sales-Valencia, Rowena Barte-Zulueta and Claire Castellano-Altavas. The team is joined by Vago Nozze Studios, a group of talented photographers.
Pane Rosales has a dynamic and active personality, being a drag racer. She is also meticulous, a trait that will definitely be needed in the pageant. Bautista-Uy is well-versed in administrative work. She is a graduate of Bachelor of Arts in Advertising and Bachelor of Arts in Communication Arts at Maryknoll College. Piamonte is a multi-awarded writer and theater director. He is the Dungog sang Iloilo awardee for theater and arts. Delina is a very talented and multi-awarded choreographer. Gaverza is an education by heart and profession. Uy is a multi-talented artist and a perfectionist. Bautista is a seasoned sales and marketing person, a strategist and a plant manager and a music man rolled into one. Valencia is a trusted operations manager of Eros Botica. Barte-Zulueta is a seasoned broadcaster and a skilled production manager. Castellano-Altavas is energetic and dynamic. She is a graduate of Bachelor of Science Major in Accountancy.
Piamonte promises a culturally strong Ms. Iloilo Dinagyang. "You will see Iloilo in Ms. Iloilo Dinagyang in 2011. There will be a collaboration with other artists."
Peña promised that the quality of the candidates will be given focus as well. "They will undergo a rigorous screening process." She added that the prizes are attractive, too. "We will give cash prizes and trips abroad," she said. "However, we cannot give the exact amount and other details because these are still being processed," she added.
Ms. Iloilo Dinagyang 2011's theme is "One Nation, One Dinagyang."
Are you interested to be the next Miss Iloilo Dinagyang? Application forms are available at the SPPR Reel Productions Secretariat Office, Room 112, 2nd Floor, Eros Botica, No. 5 Gen. Luna Street, Iloilo City. For inquiries, call 3961728 or 09102764420. An applicant must be 16-24 years old, single, of good moral character, at least a high school graduate, 5'6" in height and a Filipino citizen with Ilonggo lineage.