Pizza Time!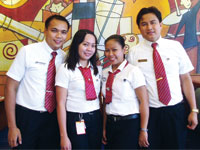 PIZZA HUT MANAGERS. Garry Apachica, marketing manager and shift manager; Genalyn Zabalate, shift manager; Karla Salcedo, management trainee; and John Ganza, general manager.
It was a fun pizza and pasta experience for the Hotel and Restaurant Management students of West Visayas State University's Janiuay Campus when they held a restaurant tour of Pizza Hut at Robinsons Place Iloilo.
The place was filled with eager students who listened to a presentation about Pizza Hut.
For product quality, I've learned that 30 minutes after the dough is made and it is not bought, this item can no longer be served. In terms of service, I've learned the staff has to initiate 10 steps while they are at work. Failure to do so would mean some serious consequences.
As for the restaurant type, Pizza Hut Robinsons Place Iloilo is an RBD (restaurant based delivery) store. So, if you asked for delivery, that young man with pizza at your doorstep came from the said mall only. They also cater for dine-in and take out. They offer 12 kinds of pizza and offer value meals. The other store types are: RR (red roof) like the SM City Iloilo branch which caters to dine in and take out; a delco, which handles delivery and take out; a bistro that is a fine dining place, which serves 24 kinds of pasta, wine and does not serve value meals; and the kiosk which is just like the one located near the Robinsons Place Iloilo grocery that sells two pizza slices for P55.
In terms of ownership, I learned that Pizza Hut is not into franchising and the branches in the Philippines are owned by one company. The pizza company is a brainchild of American college students Frank and Dan Carney. They borrowed money from their mother to start their first branch in 1958. Now, Pizza Hut is a pizza empire serving a million pizzas daily in more than 12,000 restaurants in 90 countries. The first branch in the Philippines is at Makati Park Square in 1984. There are 154 branches in the country.
* * *
Pizza Hut accommodates restaurant tours not only for HRM students but for everybody as well. Even kindergarten students will have a grand day at Pizza Hut where they can learn more about pizza and pasta making. For restaurant tours, deliveries, reservations and inquiries, call 338-3838 or 336-7855.