PURR
Lions on a Mission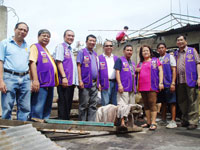 A fire displaced many residents in Barangay Rizal Ibarra, Tanza, Iloilo. These residents are in need of shelter, food and hope.
So, to alleviate the plight of the fire victims, the Panay Council of Lions Clubs headed by its president Roman Penaranda, went to the said area and distributed food and clothing. The items were sponsored by the Philippine Charity Sweepstakes Office (PCSO), all Lions Clubs of Iloilo City and their Leos (junior Lions).
Despite their situation, the village residents were all smiles and somehow felt hope as they ate pandesal, soup and drank Yakult as well as checked out each clothing, hoping that it would fit. Some of them lost their clothes to the fire in their effort to save their lives and that of their family. Those who have lost their houses stay in makeshift tents located at the entrance to the barangay. They have.bonded with their neighbors whose homes were partially burnt. "If we need to take a bath, we just check which bathroom is vacant and the owner is happy to let us in," one resident said. "It's very difficult but we are trying to get by. We are thankful that organizations like the Lions are here to help us in whatever way they can," she added.