SM City Iloilo's Little Stars
Destiny & Khristiane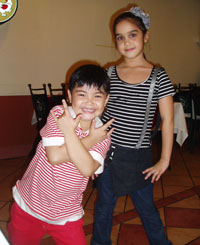 Khristiane Alistair Dumpit, and Destiny Autumn Soult.
SM City Iloilo's Little Stars 2010 winner for the female category is Destiny Autumn Soult. She is seven years old and a student of San Yat Sen School.
This mestiza is the daughter of Chuchie Jean Que, a soldier based in Afghanistan, and Michael William Soult, a solder who is based in Iraq. Though admitting that sometimes, she's sad to be away from her parents, Destiny manages to have a great time here in Iloilo City under the care of her lolo (Pedro Que) and lola (Sita Que) and with the company of her cousins in Villa. "We always go to the beach and swim. We also go to SM City Iloilo often," Destiny said.
Soon, Destiny is going to Germany to join her mom. She revealed that when the family is together, they go swimming, watch TV and play computer at home. "Our favorite game is World of Warcraft," she said.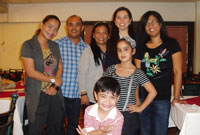 SM Little Stars group (see caption).
Destiny loves to watch television. Her favorite TV show is Spongebob. "I just don't know why but I really like it," she said. She also plays jackstone alone or with her cousins.
Does she want to become a soldier like her parents? "No. I want to be an actress," she said with conviction. "I like Hannah Montana and Demi Lovato."
Khristiane Alistair Dumpit, 5 years old, is a confident and funny kid. He is the son of Yvar Alistair, a seaman and Kate Dumpit, a businesswoman. The family lives in Dulonan, Arevalo.
Khristiane is a kindergarten student at St. Joseph School. When in school, he likes to read and write on the blackboard. "I always raise my hand when my teacher asks a question," he said.
If he's not busy with school he just stays at home or go to SM City Iloilo to eat and play.
He likes to sleep, watch TV and play Gameboy. His favorite television show is Mister Incredible. "I like him because of his eye power!" Khristiane exclaims. "For Gameboy, I like playing Mario. I like everything about Mario but my favorite is when he goes to the fire and jumps on it and into the dragon. That's the most difficult part. I've already reached stage 2," he said. Mario has four stages.
When asked what he wants to be when he grows up, he answered, "I want to be a policeman!" When he answered this, he was in a shooting stance. "I will shoot bad people! They're not going anywhere but here!" he said and everybody ended up laughing.
Caption for SM Little Stars group (see caption).jpg
Destiny and Khristiane with the latter's mother Kate Dumpit, Boy George & Regine Algecera of Cable Star, Lee Pedregosa of SM City Iloilo and Genevieve Que, Destiny's aunt. Photo was taken after an intimate interview with the SM City Iloilo Little Stars 2010 winners at Max's Restaurant, SM City Iloilo.