A Vision for Education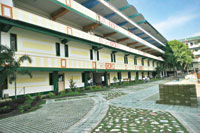 The University of Iloilo.
Antonio del Rosario talks about UI-PEN
HE is committed to participate in nation building.
It is for this reason that Antonio del Rosario and his company named PHINMA engage in industries that the country needs at a certain time.
In the 80's until the early 90's, PHINMA got involved in glass, steel and oil businesses. One of them was Philippine Oil, the first Filipino-owned company. "Heavy industries were what the nation needed at that time," del Rosario told The News Today. "However, we got hit by the Asian financial crisis and these businesses suffered," he added.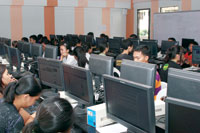 Upgraded computer laboratory.
"It was the time when the nation needed education and housing. We had to allow Filipinos to live a decent life. It was the time that we want to ensure that life can be better for every Filipino," said PHINMA'S president and chief executive officer.
So, PHINMA deviated from manufacturing and focused on education and housing. "Education is not just an end. It is a means for better opportunities," he said.
PHINMA's presence in Iloilo City is felt through the University of Iloilo-PEN which they acquired last year. Del Rosario said that his mission of providing good quality education for low-income sectors will be realized through UI-PEN.
"Just to be clear, we run this as a business and not as a charity. So, while we keep the school a profitable business, we give quality education by being as efficient as we can. We also make it a point that the city's best teachers are attracted to come to us. We have improved the facilities of the school, we are upgrading the skills and education of the faculty and we offer the best pay," del Rosario said.
Del Rosario also revealed that amid keeping their costs down, UI-PEN manages to offer a scholarship program. This year, they have 1,500 full and partial scholars.
So, how does UI-PEN keep the costs down yet remain efficient? "We lessen our operational expenses. We only offer courses wherein once the students graduate they are assured of jobs. We only have one president and one chief marketing director for all our schools. This way, we could keep our tuition down," he said.
The courses that UI-PEN offers are: Basic Education, Political Science, Psychology, Elementary and Secondary Education, Accountancy, Business Administration, Hotel and Restaurant Management, Associate in Computer Office Administration, Nursing, Criminology, Computer Science, Information Technology, Civil Engineering, Mechanical Engineering, Marine Engineering, Law and Master in Education in Business Administration, Public Administration and Doctor of Philosophy in Education.
The other schools that PHINMA has acquired are Araullo University in Dagupan, University of Pangasinan in Cabanatuan, and Cagayan de Oro College in Cagayan de Oro.
Araullo University is an example of PHINMA's success in its education system. "Before, its CPA passing rate was 0 percent. After we acquired and ran it efficiently, it enjoys a 94 percent passing rate. We are talking of the same exam takers. Our passing rate has improved through the years and we will reflect this here in Iloilo," he said.
Keeping costs down as well as tuition fees yet still offer good quality education can be tricky. Del Rosario admits that there is a tension between the desire to improve quality yet lower the costs. "It is a balancing act but we remain focus on the things that we want to achieve," he said.
About Ramon Del Rosario
Ramon del Rosario served as Secretary of Finance of the Republic of the Philippines from 1992 to 1993 and was Executive Vice President and Chief Financial Officer of San Miguel Corporation from 1986 to 1989.
He received his double degree in Accounting and Social Science from De La Salle University in Manila, graduated magna cum laude and obtained his MBA from Harvard University.